Deepavali, also known as Diwali, is a festival with great significance and spiritual beauty, celebrated by millions of Hindus and people of many other cultures globally. Deepavali festivities are filled with illuminated lamps all around, the joyous exchange of sweets, treats and Deepavali Gifts, together with vibrant and fragrant flowers incorporated in decorations, all tying together to form the perfect celebration.
Flowers, in particular, holds a special place in Deepavali celebrations, embodying rich meaning and symbolism. In this article, we will delve into the profound role of flowers in Deepavali rituals, decorations, and Deepavali Gifts. Let's get started…
A Symbol of Purity, Sanctity and Renewal
In flowers lie the timeless association of purity and sanctity, with their natural beauty and enchanting fragrances representing the heart and mind's purity. It is a common to welcome visitors or deities with fresh flowers, an act that signifies hospitality and respect. Especially during Deepavali celebrations, flowers are used to elevate a sense of holiness and purity, creating a calming atmosphere for activities and celebrations. On top of this, flowers are also believed to cleanse the atmosphere and renew positive energy of surroundings, making them perfect for the Deepavali occasion.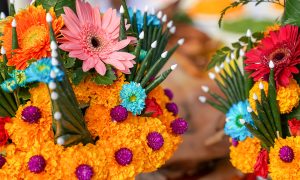 To Bring Auspiciousness and Good Luck
Apart from being a symbol of purity, flowers also hold auspiciousness and good luck in Deepavali rituals. Flowers like jasmine and tuberose are prime examples, where their sweet fragrances and pristine white blooms burst of goodness and auspicious blessings to those around. They are also believed to ward off negativity from the surroundings and add to the wholesome and togetherness of Deepavali celebrations.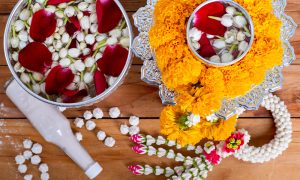 For Rangoli Art, Garlands and Torans
Flowers are also often used to create exquisite Rangoli patterns – intricate and colourful art forms commonly found as part of Deepavali decorations. These floral Rangoli designs are usually made of flowers, coloured powder, rice, and more; a way of welcoming guests and symbolic of the spiritual teachings of the transitory nature of existence as flowers wither. Deepavali Florals are also used in flower garlands and torans, typically made of vibrant flowers like roses and marigolds, either worn or hung at home entrances to usher in guests and good fortune.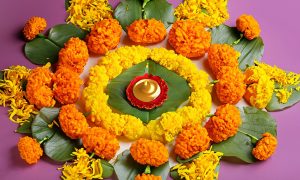 Flowers to Choose this Deepavali:
Now that we've learnt about flowers' importance in Deepavali celebrations, here are some flower picks not to miss if you are decorating your homes, or simply getting a Deepavali gift for someone who celebrates the occasion.
Firstly, the vibrant orange and yellow hues of Marigolds are ideal to symbolise brightness and positivity, ushering in blessings for the season. Similarly, jasmines welcome positive energy, also embodying the spiritual aspect of Deepavali with their white blooms giving off sentiments of purity and devotion. Roses are rich in colour and has a fragrant allure that conveys passion, love, and joy, while chrysanthemums add a burst of colour to Deepavali decorations, representing long life and good fortune, making them a popular choice for table flower arrangements. Lastly, the lotus is a symbol of enlightenment and spiritual growth, a reminder of the triumph of light over darkness.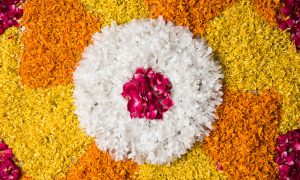 Flowers are more than decorative elements in Deepavali celebrations – they express the festival's core values of purity, prosperity, and hospitality! Deepavali is a lovely time to celebrate the beauty of life, and what better way to do so than adorning homes and hearts with the vibrant presence of flowers.
Illuminate relationships between loved ones, friends, and business associates by embracing the timeless tradition of gift-giving with Noel Gifts newly launched Deepavali Gift Hamper and Flower Collection! From pyramid gift hampers, gift baskets full of delightful sweet and savoury snacks, to hand bouquets and flower gifts perfect for the occasion, we have all you need. It's time to get ready for Deepavali festivities!