Grand openings are momentous occasions for business and organisations, and nothing beats the symbolic gesture of impressive congratulatory flower stands commonly seen lined up outside shops and offices. Opening flowers are a symbol of celebration, warmth, and beauty, enhancing any ambience of grand openings and marking the exciting beginning of a new chapter and an opportunity to make a memorable first impression.
In this article, we will explore the meaningful gesture behind grand opening flower stands, the types of florals and colours they often feature, and how Noel Gifts can assist you in making the perfect pick if you are thinking of sending a stunning congratulatory flower arrangement to a loved one, client or business partner.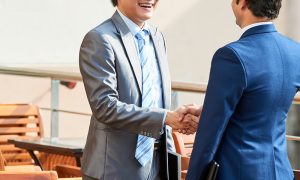 Meaning
Grand opening flowers are more than just decorative pieces, these beautiful displays, and the gesture of sending one, carries profound symbolism extended towards the recipient and new venture celebrated.
The key purpose of grand opening flower stands, or 'congratulatory flowers', as its name explains, is to send wishes of prosperity and success to the business or organisation embarking on their new venture. The heartfelt gesture of sending one demonstrates expressions of congratulations and support, showing that you believe in their success and are keen to be a part of their journey.
The vibrant blooms and lush green of congratulatory flowers are not only eye-catching decorations and ambience enhancers, but they also symbolise growth and abundance, reflecting the hope for a flourishing enterprise through the touch and presence of nature's beauty to the occasion.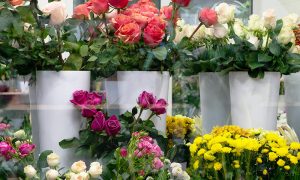 Flowers to Consider
Roses
The timeless beauty of roses has always been a classic choice for opening flowers, speaking volumes of passion, courage, love, and appreciation. Red roses are an excellent way to convey a business's sense of determination and commitment to their customers, while yellow roses symbolise joy and friendship, ideal for creating a warm and welcoming atmosphere at the grand opening.
Sunflowers
The vibrant and sunny disposition of cheerful sunflowers exude meanings of loyalty, adoration, longevity, and optimism. Their bright yellow petals and impressive size skilfully weaved with other congratulatory flowers capture the attention of passersby, creating an inviting event sure to be memorable.
Orchids
A sophisticated opening flower pick includes orchids, beaming of luxury, refinement, admiration, and respect. Coming in a wide variety of colours and patterns, it is easy to select the ones that matches a brand's aesthetic. Orchids are not only visually stunning, but they are also the perfect choice for higher-end boutiques, upscale restaurants or luxury spas and businesses.
Chrysanthemums
Similarly, available in a series of colours including red, pink, white, and more, chrysanthemums are often recognised for their symbolism of longevity, resilience, strength, and endurance. Despite white chrysanthemums often associated with condolences wreaths to symbolise peace and strength, brightly coloured chrysanthemums in congratulatory flower stands, on the other hand, conveys a very different message of a strong foundation for a business.
Lilies
Lastly, lilies are a beautiful choice for grand opening flower stands as they represent the fresh start that comes with a new venture launch. Beyond their visual appeal, lilies contribute a deeper layer of meaning including hope, purity, optimism, and enlightenment, making them a thoughtful and symbolic addition to the event.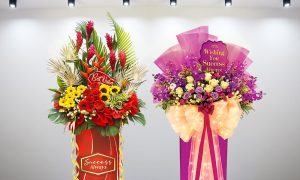 Colours to Consider
Colours are equally important in any floral arrangement. In the context of grand opening flower stands, there is a tendency to gravitate towards bright, traditional, and auspicious colours that symbolises good luck and happiness, adding visual appeal and a welcoming atmosphere to opening events.
When sending congratulatory flowers, one may also opt for colours that align with a business or recipient's branding to convey a unique message. The deliberate choice of colours showcases a level of attentiveness that goes beyond a simple floral arrangement, making the gesture both meaningful and tailored.
Noel Gifts' Congratulatory & Grand Opening Flower Stands Collection
We understand the importance of choosing the right florals to convey any desired sentiments. With Noel Gifts' team of skilled florists, we have crafted and curated a collection of grand opening flower stands that embody artistry, elegance, and meaningful wishes that will leave a lasting impression! With many choices available, from elaborate designs to stylish looks, you are bound to find something dazzling in celebration of exciting beginnings.
Apart from congratulatory flower stands, congratulatory table flower arrangements are a novel alternative, the perfect gifts to create polished and professional atmospheres for official business openings or celebrations of successes and achievements that can be displayed both indoors and outdoors.  
It is time to rejoice and celebrate brand new ventures and beginnings! The perfect congratulatory flower surprise is just one click away…