Imagine this: It's Christmas morning, and your eyes are barely open when the doorbell rings unexpectedly. It's a surprise delivery, and as you open the door, a cheery delivery person hands you a festive Christmas gift hamper.
Shaped like a petite Christmas tree, you spot sweet treats you know your children will have trouble keeping their hands off, and fine, fruity red wine neatly tucked in an elaborate basket. The icing on the top that makes you laugh is the sincere looking gingerbread man décor giving you a little wave.
'Who is it from?', you wonder, and immediately your gaze connects with that familiar corporate logo on that intricate Christmas greetings card. It's from a valued business client, someone you've worked with so long that he feels like an old friend.
In the spirit of such a heartwarming gesture, picture this for yourself on Christmas day: Bubbling with light-hearted joy and gratitude, calling your client to thank them and wish them a Merry Christmas as an exciting day begins.
Now consider this lovely thought: What if you could gift a similar experience to your valued clients, cherished business partners or even your fellow colleagues you've gone through thick and thin with at work this Christmas? And what if you could be the one they call to thank this merry Christmas morning?
Dear readers, welcome to our heartfelt corporate gift guide for Christmas. As the year comes to a close and the holiday break approaches, we know that many, including your valued corporate clients, business partners and employees, will be slowing down and taking a well-deserved break. The next time you might see some of them would be after the New Year.
Sending them a gift this Christmas is an excellent, sincere way to express your appreciation for their collaboration thus far and build bridges for stronger partnerships in the coming year.
At Noel Gifts, we believe in Bringing People Closer through gifting. With our hard-earned corporate image built up over the last 49 years with you, this Christmas, let us be your guide in choosing not just a present, but a meaningful token that resonates with the spirit of the season.
With that, we are delighted to present to you our top picks from our extensive Christmas Gift Collection and Corporate Gifting Guide, curated with the utmost care and quality, to ensure that you can find a gift for everyone. Happy Browsing!
Noel Gifts Christmas Collection 2023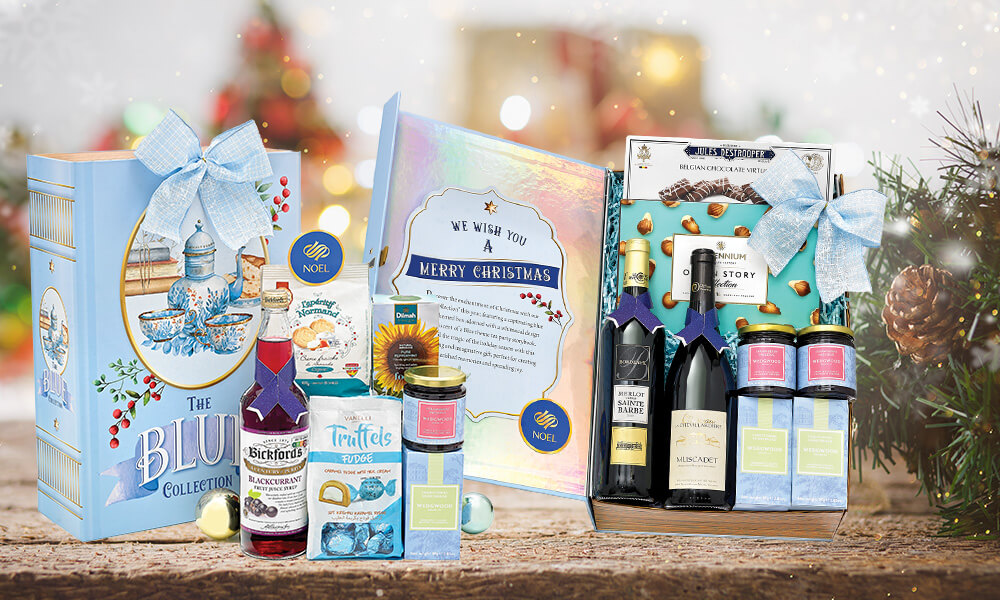 For those of you who know the song Blue Christmas, whether you've listened to the lively original version by the King of Rock and Roll Elvis Presley, or the jazzy cover by the classy Michael Bublé, you're sure to love the Christmas hampers in our Blue Collection.
With a graceful selection of dainty English treats, featuring our buttery and crisp, cream-coloured Wedgwood traditional shortbreads which will melt away in your mouth, jammy strawberry preserve to spread generously across a crispy piece of toast, completed with a bottle of sparkling grape juice, champagne or cherry-red wine, our Blue Collection Christmas hampers are perfect for a relaxing afternoon tea with family or colleagues over the Christmas season.
Budget-friendly options start from $129, with premium hampers also available to suit your gifting preferences.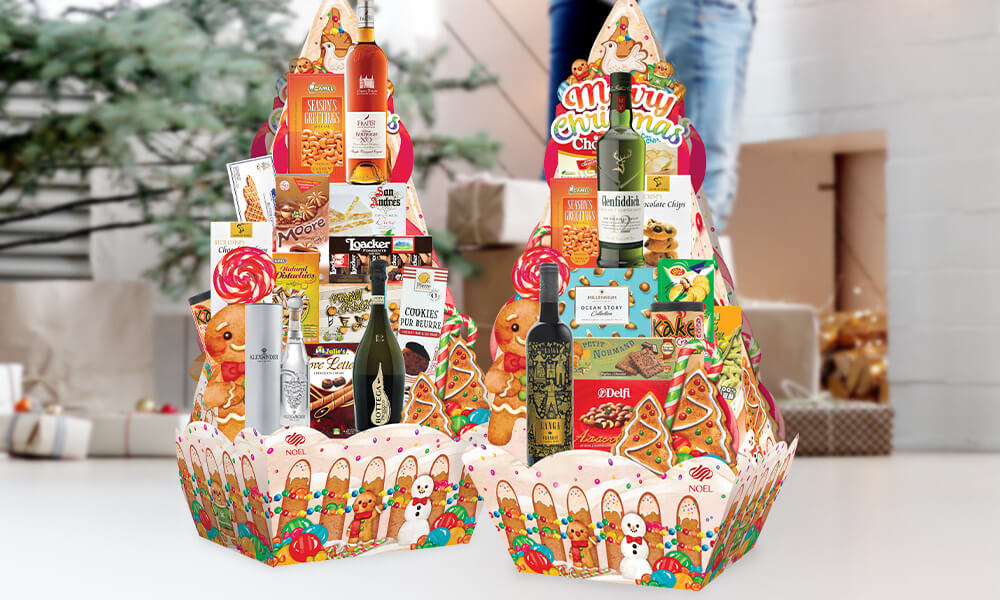 We all know clients or colleagues who never fail to refresh us with their youthful and bubbly personality. This Christmas, bring the festive cheer to their doorsteps with our Christmas Evergreen gift hamper.
With this cheerful-looking gingerbread man décor giving them a shy little wave, an assortment of tasteful Christmas treats such as sweet chocolate cookies and crispy cassava chips, full-bodied, deep red wine, and sweet, malty whisky to share, this Christmas Evergreen hamper, joyfully crafted from eco-friendly materials, is sure to bring a smile to their faces.
Broad price range available, with affordable hampers starting from $89, to more premium options consisting of champagnes and choice wines for every budget.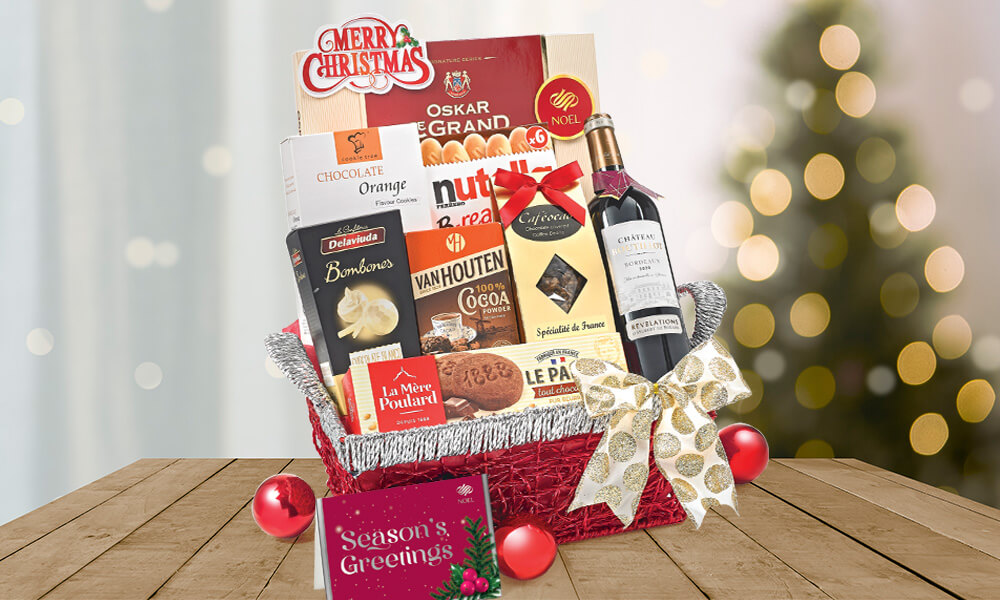 Treat your clients, colleagues and their families to Christmas gift hampers from our Chocolate Rhapsody Collection, bursting with classic chocolatey treats that are perfect for children or sharing at the office. These tasty, sweet treats will have both young and old jumping for joy this Christmas.
Affordable price range starting from $80, with premium hampers also available to suit your gifting preferences.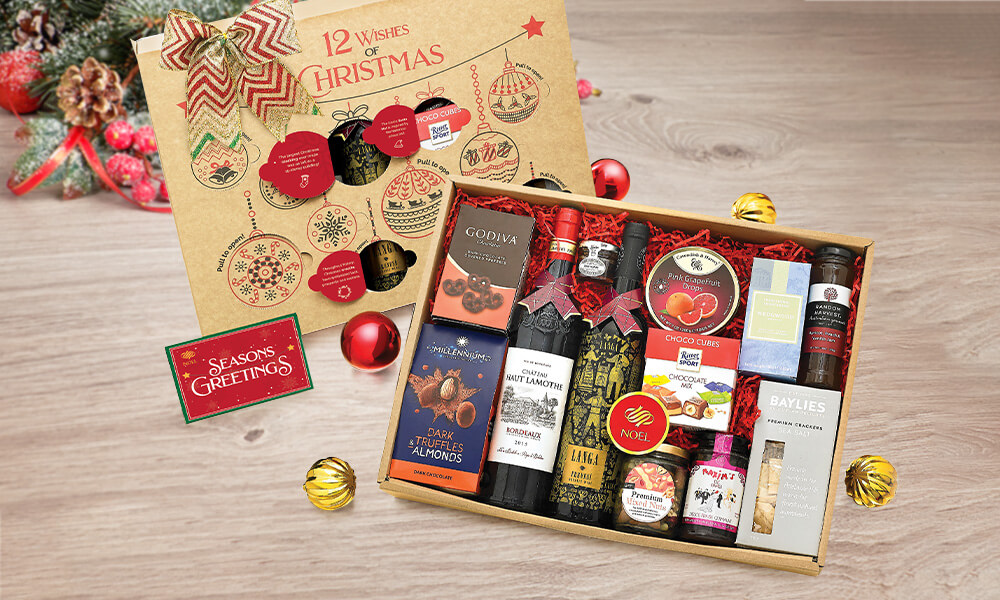 And lastly, if you want to give them a fresh surprise for all the 12 days of Christmas, browse through our 12 Wishes of Christmas gift hamper, inspired by the widely popular advent calendar. Bless your cherished clients and colleagues with this classic box that brims with festive goodies from all around the world, all encased in a recyclable box with eco-friendly ink.
Value-packed options available starting from $80, with premium hampers also available to suit your gifting preferences.
Aside from these four Christmas Collections, we still have lots more in store for you. From Christmas gift hampers that are suitable for every budget to grand Christmas feasts featuring piping hot Shepherd's Pie and elaborate log cakes, along with options for international delivery for your clients overseas, browse our wide range of Christmas gifts or read through our in-depth product range article to find the most fitting one that your clients and colleagues will love.
Corporate Gifting with Noel Gifts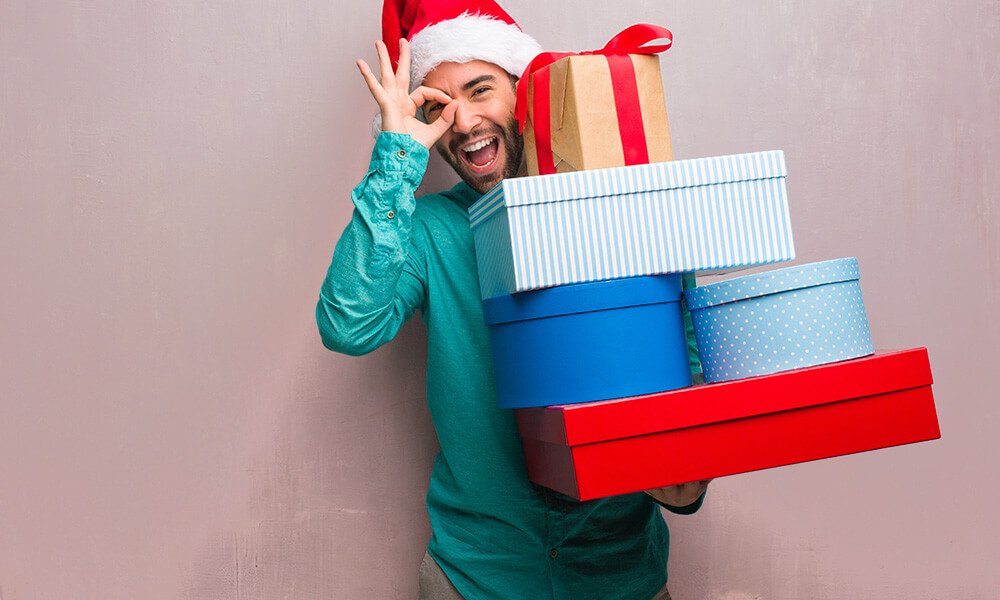 We know that the weeks leading up to Christmas can be a busy season of completing last-minute work tasks, and it can be frustrating when we're all simply craving some rest time to spend with our loved ones.
To ease your frustrations, and complete your lovely Christmas corporate gift, we've gone the extra mile to ensure that your gifting process will be seamless and convenient.
If you're looking to place a bulk order, do not hesitate to send us your gift orders to inquiry@noel.com.sg by downloading and filling up this Bulk Order Form. Let us take care of the sorting, arranging, and delivering for you based on your preferences.
Upon receiving your order, our diligent customer service officers will get in touch with you to confirm your order, or let you know if there is any additional information we require to make the delivery a smooth and efficient one for your esteemed recipients.
Personalising Selected Gifts
If personalisation is what you've been searching for, our friendly customer service staff are ready to find out more from you. For selected gifts, we also provide customisation services to help you leave a lasting impression.
This includes options such as imprinting your corporate logo, adding any additional items or including any company products of choice, subject to possibility and availability.
Connect with us through the following platforms where we'd love to find out more from you.
Email: inquiry@noel.com.sg
Whatsapp (Message only): (+65) 8666 9678
Customer Service Hotline: (+65) 6299 1133
Creating a Corporate Account for More Benefits
And of course, saving the best for the last – a warm welcome to our Noel Gifts community. We know you want the best value for money, so remember to create a corporate account with us to receive 10% off your first purchase with us as a new customer. Enjoy earning and redeeming reward points for future purchases as we keep you updated on exclusive sneak peeks of our new collections.
Beyond the Unwrapping: A Gift That Lasts
As the season of giving draws near, let us partner up with you to provide an excellent and heartwarming gifting experience to all your valued clients, business partners and employees.
As they unwrap your thoughtful Christmas gifts, may your sincere expression of appreciation, thanksgiving, and shared hope for stronger working relationships be clearly received and reciprocated generously in the exciting new year to come. Together, let's give gifts that last.
From all of us at Noel Gifts, Merry Christmas! May this heartwarming season be filled with lots of joy, cheer, and peace with your loved ones.